For Immediate Release: July 20, 2023
Contact: DOEA Communications, communications@elderaffairs.org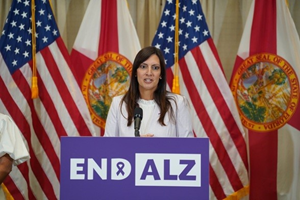 OCALA, Fla. — Today, Lieutenant Governor Jeanette Nuñez and Department of Elder Affairs Secretary Michelle Branham were joined by local leaders, advocates, and caregivers in Marion County to celebrate recent budget funding to support Florida's advancements in service and care for individuals with Alzheimer's disease and related dementias. During the 2023 Legislative Session, Governor DeSantis proposed and secured record funding for Alzheimer's care.
"With Governor DeSantis at the helm, Florida has put our seniors first when they needed it most," said Lieutenant Governor Jeanette Nuñez. "The Framework for Freedom Budget included over $65 million for Alzheimer's support, an increase of more than $12.5 million over the last year. We will continue to fund, support, and fight for those who live with Alzheimer's disease, their families, and caregivers."
The state budget, signed by Governor DeSantis in June, included $12.5 million in additional funding to expand the work of the state's 17 Memory Disorder Clinics and the Alzheimer's Disease Initiative, which assist residents and caregivers affected by the disease. This also includes nearly $500,000 in support for the Alzheimer's Association's Brain Bus, a mobile outreach unit that helps educate Floridians on early warning signs and available resources.
"Governor DeSantis and Lieutenant Governor Nuñez have been consistent advocates for the 580,000 Floridians battling Alzheimer's disease from the very beginning," said Department of Elder Affairs Secretary Michelle Branham. "Thanks to their continued support and our partners in the Legislature, we've seen innovation, advancement, and renewed hope in Florida that puts our state at the forefront in the fight against Alzheimer's disease."
"I am grateful for the dedicated funding and prioritization of our seniors by our state leadership so we may continue to implement impactful initiatives to keep Marion County a special and thriving place for seniors to live," said Jennifer Martinez, Executive Director, Marion Senior Services.
An estimated 580,000 people aged 65 and older in Florida are living with Alzheimer's disease, and around 827,000 Floridians are serving as family caregivers. Governor DeSantis enacted a robust Five Point Dementia Action Plan in his first term, which came to fruition last June with the launch of the Florida Alzheimer's Center of Excellence (FACE). FACE pairs Care Navigators with individuals, families, and caregivers to bridge connections to local resources and services for Alzheimer's disease. FACE received over $1 million in additional funding in the Framework for Freedom Budget to expand to serve more families in Florida.
###