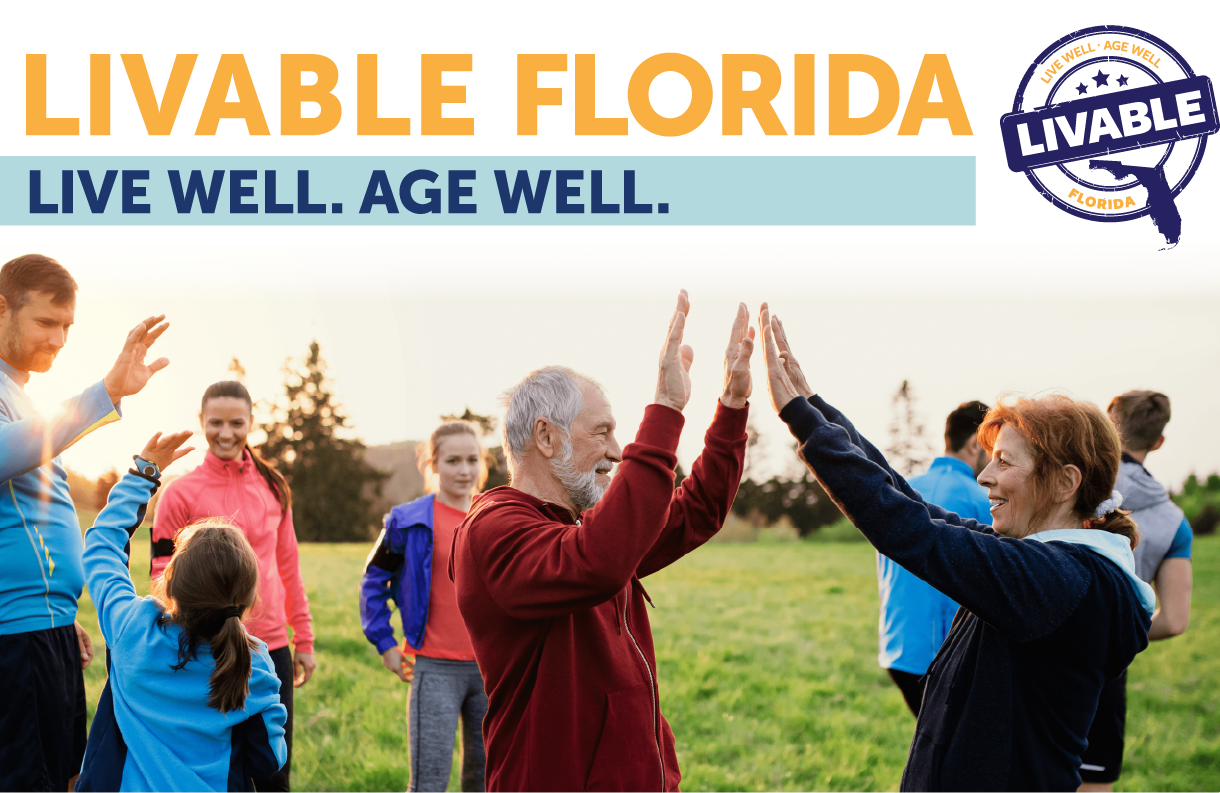 Governor DeSantis and Lieutenant Governor Nuñez envision a Florida where older adults – and indeed all Floridians – are thriving, and not just living, but living well and aging well. In April of 2019, Florida was designated an Age-Friendly State and was, at the time, the largest state in the nation to join the AARP Network of Age-Friendly States and Communities. Age-Friendly states and communities address the social determinants of health – the conditions in which people are born, grow, live, work, and age. Categorized by the 8 Domains of Livability framework, the social determinants of health include factors such as social support networks, neighborhood, and physical environment, socioeconomic status, education, appropriate and affordable housing, employment, and access to health care.
Through this Age-Friendly initiative, now branded as Livable Florida, DOEA and its partners are working to create Livable Communities in cities, towns, and villages statewide. A Livable Community is one that is safe and secure, has affordable housing and transportation options, offers supportive community features and services, and embraces older adults with varying needs and abilities. Livable Florida embraces the positive possibilities of an aging population and is creating a place people of all ages will want to call home!
---
What is a Livable Community?
Livable communities are counties, cities, and states that equitably serve residents of all ages, ability levels, incomes, races, ethnicities, and other backgrounds. AARP has identified the following principles as foundational to livable communities:
Secure affordability – communities should provide transportation, housing, and other services and features that are affordable to people of all income levels.
Secure equitable access – all people, regardless of income, ability level, and background, should have access to affordable transportation and housing. Everyone should also have a safe and healthy environment in which to live.
Ensure quality and choice – individuals should have a range of high-quality options to meet their needs, including housing and transportation.
Prioritize accessibility and the ability to age in place – people of all abilities and ages should be able to enjoy community services and features that meet their needs. They should be able to live in the setting of their choice and have increased access to destinations.
Promote health, safety, and environmental sustainability – communities should support the right of individuals from all incomes and backgrounds to live safe, secure, and healthy lives. Environmentally sustainable communities protect natural resources and create conditions, such as clean air and water, which improve health outcomes for residents over the long term.
Achieve holistic policymaking – all communities should seek to improve the interconnectedness of such issues as health, wellness, safety, work, education, environment, and social engagement. Doing so enables residents across generations to live their best lives.1
The 8 Domains of Livability
In addition to the principles listed above, AARP has also developed a framework called the "8 Domains of Livability." This framework is used by many of the towns, cities, counties, and states enrolled in the AARP Network of Age-Friendly States and Communities to organize and prioritize their work to become more livable for both older residents and people of all ages. Below is a summary of these domains:
1. Outdoor Spaces and Buildings
People need public places to gather — indoors and out. Green spaces, seating and accessible buildings (elevators, zero-step entrances, staircases with railings) can be used and enjoyed by people of all ages.
2. Transportation
Driving shouldn't be the only way to get around. Pedestrians need sidewalks and safe, crossable streets. Dedicated bicycle lanes benefit nondrivers and drivers alike. Public transit options can range from the large-scale (trains, buses, light rail) to the small (taxis, shuttles or ride share services).
3. Housing
AARP surveys consistently find that the vast majority of older adults want to reside in their current home or community for as long as possible. Doing so is possible if a home is designed or modified for aging in place, or if a community has housing options that are suitable for differing incomes, ages and life stages.
4. Social Participation
Regardless of a person's age, loneliness is often as debilitating a health condition as having a chronic illness or disease. Sadness and isolation can be combated by having opportunities to socialize and the availability of accessible, affordable and fun social activities.
5. Respect and Social Inclusion
Everyone wants to feel valued. Intergenerational gatherings and activities are a great way for young and older people to learn from one another, honor what each has to offer and, at the same time, feel good about themselves
6. Work and Civic Engagement
Why does work need to be an all or nothing experience? An age-friendly community encourages older people to be actively engaged in community life and has opportunities for residents to work for pay or volunteer their skills.
7. Communication and Information
We now communicate in ways few could have imagined a decade ago. Age-friendly communities recognize that information needs to be shared through a variety of methods since not everyone is tech-savvy, and not everyone has a smartphone or home-based access to the internet.
8. Community and Health Services
At some point, every person of every age gets hurt, becomes ill or simply needs some help. While it's important that assistance and care be available nearby, it's essential that residents are able to access and afford the services required.2
Resources
To learn more about how to create a livable community and access tool kits and resources created by AARP, please click on the following link: ToolKits & Resources
To share ideas for a Livable Florida or to share success stories, please follow this link.
---
___________
1. AARP (2021) AARP Policy Book 2021-22, Chapter 13: Livable Communities.
2. AARP (2021) The 8 Domains of Livability: An Introduction.